Parker County Peaches, a Family  Tradition
Written by LaDonna Stockstill
Peaches are ripening on the trees in Parker County and filling baskets down at the farmer?s market. What would summer be without them? They are a staple in my kitchen where preserves, peach cobbler, and peach ice cream are favored treats. Their fragrant sweetness brings back memories of days gone by.
Named by the Texas State Legislature as the Peach Capital of Texas, Parker County growers produce the biggest, sweetest,
juiciest peaches in the state. The peach industry can be traced as far back as 1938 when my Grandad, J.K. Johnson, Sr., planted his first peach tree. This is the history of the early days of peach farming in Parker County, and of a family who was there every step of the way.
My grandad planted his orchard six miles west of Weatherford. Just down the road, F. E. Williams planted another orchard and opened a fruit stand. My dad, J.K. Johnson, Jr., continued the family tradition in the 1950?s. He planted a 65-acre orchard, which eventually had over 3,000 trees. Father and son were pioneers in the peach industry of Parker County and were involved from the 1930s through the 1970s.
Early on the Johnson family worked with Tom Denman of the Experimental Station at the Texas Agricultural Research and Extension Center in Stephenville, Texas. Their goal was to improve peach production by improving the pruning process. They also improved the harvesting method, which reduced bruising of the fruit during harvest and transportation. Many of the methods of peach farming today can be directly traced to these men. Others who contributed to the progress include County Extension Agents Gene Sears and Jimmy McDaniel, as well as growers C.W. Moss, Fred Tucker, Roland McMinn, Fred Barnett, Fred Cowles, and Bill Clack.
Pruning the trees into the shape of a bowl vastly improves peach production. It allows more light into the middle and keeps the trees at a height so the peaches can be picked from the ground. Thinning the peaches produces a better quality fruit and allows the trees to have less stress. I remember harvesting peaches on hot summer days, and I still hear my grandad?s voice. ?Don?t look at the ground when you?re thinning because you won?t remove enough fruit to have the quality you need and want.? The ideal spacing of the fruit is about four-inches apart. Believe it or not, peaches will have a better flavor and sweeter taste because of thinning.
The harvesting boxes were a direct result of my dad?s good sense. The burlap sacks that had been used when picking fruit caused bruising as the fruit was dropped into the sack. He developed a wooden box with a strap that was worn around the neck. This made a much better container for the peaches until they reached the market.
I remember my Grandma Johnson selling peaches from a stand on her front porch, and grandad selling to vendors at the Weatherford Farmer?s Market. When my dad got into the business, he knew he needed larger markets so he signed an agreement with a supermarket chain to supply them with peaches.
One year the crop was so large that a new market was needed. A warehouse in Dallas agreed to buy them and my uncle, Weldon Corbin, agreed to deliver. But when he arrived there was a mix up, and they would not take the fruit. Weldon knew he should not take the load back to the grading shed because it was also loaded with peaches. He remembered Dallas had a large farmers? market and decided to give it a try.
From the time he pulled into the rental stall until the time he sold his last peach, he did not even have time to get a drink. The line of people waiting to purchase the peaches stretched down the walkway. Thanks to Weldon?s ingenuity, we found a new market for our peaches; and we sold at this market until we built a large following of customers who were willing to make the trip to Weatherford for the delicious peaches.
You may not realize this, but I can tell you from experience: growing peaches is hard work. During the season, peaches must be picked every day; and the season can go from May till Labor Day, depending on varieties planted. The right conditions must be observed to spray for insects and diseases, another chore that must be performed every two to three weeks. After all the peaches have been picked, there is a short rest before it is time to begin the process again.
In 1980, the torch for the peach industry was passed on to Charles and Lafreita Hutton of Hutton Farms, who purchased the peach farm from J.K. Jr. and Esther Mae Johnson. Other present day growers in the county are: Steve Obannon, Charles Loggins and Ben Walker.
Parker County orchards have many different varieties of peaches, each with a delicious flavor. Each variety ripens at a different time so there will be peaches throughout the summer. The early varieties are clingstones, and the freestones ripen later in the season. The terms freestone and clingstone (or clings) are used when describing peaches. "Stone" refers to the seed. Freestones will come loose from the seed, while clingstones will stick tight to the seed. Both have delicious favor, but the freestone is easier to cut and less messy.
When buying peaches, it is best to choose locally grown fruit because it can be picked riper and does not go through long miles of shipping. Look for fruit that is not green next to the stem and firm to the touch but not rock hard. Peaches that are left to grow to their mature size and then picked can still have some of Mother Nature?s heat, and they will continue to ripen if left out of refrigeration. Peaches used for preserving should not be soft but just beginning to give a little. Peaches for eating or freezing should be as ripe as possible but still can hold together. For delicious hand cranked peach ice cream, use only totally ripe peaches.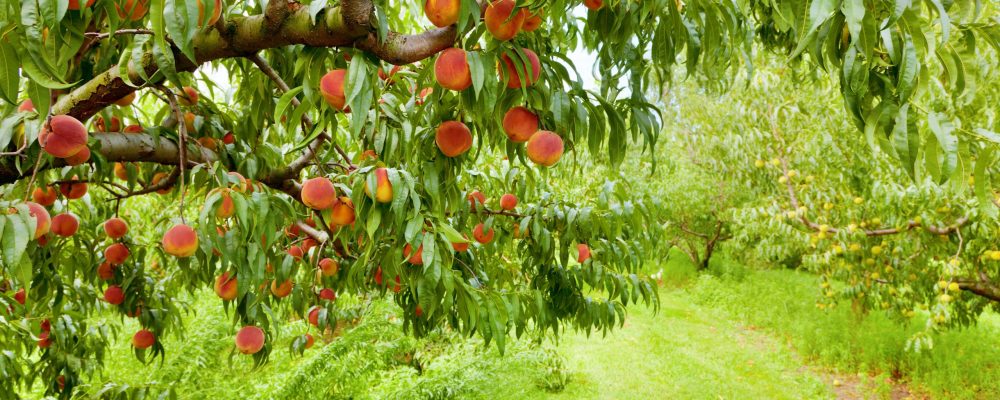 Here are two of our family?s favorite recipes using Parker County peaches. Both recipes are easy and each is a delicious way to feature Parker County peaches
Maxene Cowles' Peach Crunch (Mrs. Fred Cowles):
2 tablespoons butter ½ cup sugar
6 cups peaches
Topping:
½ cup brown sugar ½ teaspoon cinnamon
½ cup flour ½ teaspoon nutmeg
¾ cup rolled oats ½ cup softened butter
Peach Mixture: Melt the two tablespoons butter in a 1½ – quart shallow baking dish. Add peaches and
stir in the sugar. Set aside.
Topping: Mix together brown sugar, flour, oats, cinnamon and nutmeg. Mix in butter until mixture is crumbly. Use to top peaches. Bake at 375 degrees for 30 minutes.
Esther Mae Johnsons' Peach Cobbler (Mrs. J.K. Johnson):
2/3 cup sugar ½ cup milk
1 cup flour Dash of salt
2 teaspoons baking powder
1-1½ quarts peeled and sliced peaches
2 tablespoons butter
Cinnamon and sugar to sprinkle on top.
Heat peaches and butter. Then check and adjust the sugar to taste. The amount of sugar can depend on how sweetness and ripeness of the peaches. Combine sugar, flour, milk, salt and baking powder. Place into a 13×9 inch baking dish. Pour hot peaches over mixture to make the crust rise. Sprinkle cinnamon and sugar over cobbler before baking. Bake at 375 degrees for 30-45 minutes. Bake until peach juices bubble and crust turns a light golden color.
Peaches are more than a summer fruit, they are a tradition that runs deep in my family. If you are thinking of growing your own peaches, County Extension Agent Jon Green can be a great help. He is an avid supporter of the Parker County peach industry and is a wealth of information for both the amateur and professional grower. His office is located at 604 North Main, Suite 200 in Weatherford, and the phone number is 817-598-6168.