Extension Demonstration Gardens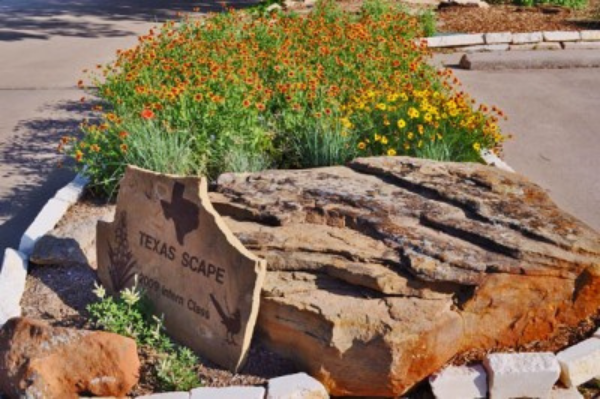 The Extension Demonstration Gardens are located at 604 N. Main Weatherford.
This location is one of seven gardens located throughout the county managed by the Parker County Master Gardener's (PCMG). This also is the location where the PCMG hold their annual April plant sale. Our goal is to educate the public with an on-site experience. For them to be able to see, touch, and enjoy the fragrance of a variety of plants and flowers. There are eleven different themed gardens at this location for the public to enjoy and appreciate. This is a location that the public can gather knowledge that they can apply to their own landscape projects.
We have a variety of drought tolerant native and adapted plants that do well in Parker County. These include perennials, grasses, shrubs, and many others all of which require little or no water once established.
Water conservation is a big part of our efforts at the Extension Gardens. There is a 2200 gallon rainwater harvesting tank for use during a drought situation. Drip irrigation, xeriscape, and other means of conserving water are also employed. As we all know, water is our most valuable natural resource and conserving it is very important.
All the gardens have been amended with compost, fertilizer, and mulch. Other amendments are added on an as-needed basis. We also started an on-site composting program in 2011. This compost will be used when needed at the Gardens.
Every two years we welcome an intern class. After they complete their classroom studies and during their intern year they are given a project to work on as a group. A typical project would be to rework or add to an established garden. Therefore the gardens are always changing. The last new garden was completed in 2009.
Every year the Parker County Master Gardener's work to improve the gardens and to gain knowledge in the process. Working hard for our community. Please come visit anytime.