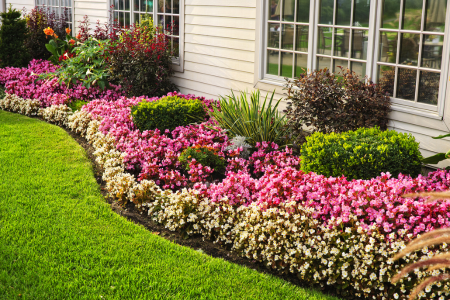 A well-designed landscape gives pleasure to the owner, enhances a community, adds to the resale value of the property, and limits the environmental impact of care and maintenance.
Landscape design involves much more than placing plants on the property. It is an art that requires conscious organization and arrangement of the outdoor features. Landscape goals include:
Organizing and developing the site for maximum use and pleasure,
Creating visual relationship between the house and site,
Reducing landscape maintenance to a practical level,
Conserving water and energy, and
Reducing fertilizers, pesticides, and garden waste.
Americans spend a tremendous amount of money landscaping their homes; however, much of this waste results from little or no planning. A good designer will arrange space so that people find it useful, beautiful, meaningful, and functional, as well as environmentally sustainable. Useful methods for a well-designed landscape plan include:
Analyzing the habits of people who will use the space, including their needs, desires, and activities,
Studying past methods,
Surveying available materials to solve design requirements, and
Analyzing the environment of the site including views in and around the site.
Temptation to begin planting immediately is almost overwhelming. Whether you are landscaping a newly-built home or redesigning an existing landscape, results will be much more satisfying if you plan first. Planning, design, and installation are critically important to long-term maintenance of the landscape. Mistakes or poor judgment at this stage can result in excessive use of water and energy, as well as garden waste. Not only will these decisions impact the environment, they can significantly increase utility bills and other costs associated with maintaining the landscape.
Ideally, you should consult a professional landscape architect or designer, but you can produce good results doing it yourself if you follow these guidelines.
Step One: Perform a detailed analysis of your site. Identify those areas that are full sun, partial shade, dappled shade, or full shade. Every plant has its own requirement for sun or shade, so this step is critical.

Step Two: Measure the space and identify all existing trees, ponds, and hardscape such as sidewalks, decks, or patios. Using this information, draw a detailed plan to scale on graph paper. Indicate areas of shade and sun, and include orientation to North so that you can anticipate the movement of the sun throughout the day.
Step Three: Decide on the uses of your landscape. What areas are public areas? What areas do you want to be private? Do you need a play area? Make sure you include room for a service/storage/work area. Identify these areas on your plan.
When these steps are complete you will have a detailed site plan that will be useful in planning and installing the landscape plants. Don't worry too much about identifying the specific plants at this time. Use generic words like "groundcover" or "evergreen shrub" or "perennial bed." Consider the size of the plants you want for each of the spaces, particularly the areas for trees and shrubs. Knowing this detail will be extremely helpful when you begin plant selections.