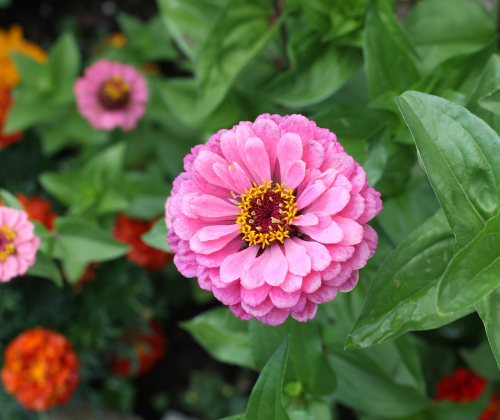 Larkspur Consolida Orientalis
Grows in full sun to partial shade. Mature size varies up to 6'x1′. Blooms spring in shades of blue, pink, and white. Will re-seed. Deer resistant. Drought tolerant.
Beautiful reseeding winter annual with face of a bunny in every flower. White bunny in center with purple or pink petals. Exceedingly easy to grow; comes back each year on its own.
Hardiness: Zone 7
Exposure: Full sun
Size: Height — 3 feet tall; width — 1 foot wide
Bloom time: Spring
Care: Exceedingly easy to grow; comes back each year on its own; plant seed and transplants in the fall
---
 Everything you ever would want to know about Larkspur.
Larkspur (Delphinium grandiflorum)
By Dr. William C. Welch, Landscape Horticulturist
Department of Horticultural Sciences, Texas A&M University.
Larkspurs have naturalized in nearly all areas of Texas and are known for their tall spikes of blue or purple flowers. Pink, white, and double forms are also available, but the seed seems to revert to the dark blue or purple single form after a few years.
Larkspurs are fall-seeded annuals that prefer to be left in place after germination. They are spectacular and easily grown. A sunny location and well-drained soil of moderate fertility are the major requirements. Thinning the seedlings in mid winter to about 8 to 10 inches apart will usually result in an impressive display of individual plants that can reach 3 to 4 feet tall. Like poppies and other fall-planted annuals, larkspurs usually need little supplemental irrigation, since they complete their life cycle during our naturally cool, moist seasons.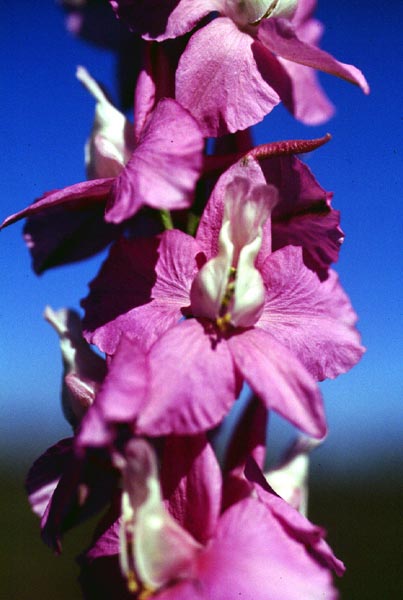 Whether seed is collected or allowed to fall and naturally germinate in the garden, it is important to remember that modern hybrid varieties often do not come true from open pollinated seed. Seed saved from many of these modern types may have little resemblance to the original flower. Large and double flowers may return as smaller single types, and bright colors may tend to be more muted.
Annuals that reseed and return year after year can be as valuable as perennials to the garden. There is something special about these plants that like your garden so well that they choose to come back each year for another visit. In addition to convenience and economy, reseeding annuals such as larkspurs often add charm and special character, since they frequently come up in places where we may not have planted them, adding informality and spontaneity to the garden. 
Since larkspurs respond well to cultivation and fertilization, it may be necessary to work the soil and add organic material and fertilizer after the seed has fallen. This cultivation process may destroy some of the seeds by planting them too deeply, but there is usually a sufficient number remaining to provide plenty of plants for the next season.
A frequent problem with reseeding annuals is over-germination and, therefore, crowding, to the point that plants cannot grow and produce properly. This requires careful observation in the garden to check on young seedlings so that when they reach a size large enough, they may be transplanted or thinned. Most young seedlings may be successfully transplanted when they put on their second set of leaves. Some annuals, such as poppies and larkspurs, are somewhat difficult to transplant and do best when thinned and allowed to mature where they germinated.
Young seedlings of flowering annuals may show little resemblance to the mature plants and be very difficult to distinguish from weeds. This requires practice and patience until the young seedlings of desired annuals become familiar. It also implies that most preemergent herbicides and heavy mulches cannot be used in areas where reseeding annuals are desired. The mulches and herbicides are just as effective in controlling the desirable annuals as they are the weeds.
After larkspurs have completed their flowering season in late spring, they may be replaced with hot-season annuals, such as globe amaranth (bachelor buttons), periwinkles, celosias, or purslanes.