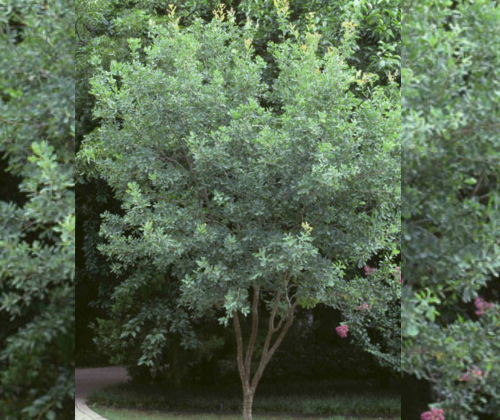 Lacey Oak Quercus laceyi
This is one of the smaller Oak trees, able to grow in sun to partial shade, deciduous. Mature size 30'x30'. Ideal for small yards. Leaves turn bluish gray in summer. Lacey Oak is native to the Edwards Plateau a region in west-central Texas.
A midsize ornamental tree that is great for small yards and for Texas hill country themed landscapes. As the Lacey Oak matures it develops an irregularly rounded crown and a wide stout trunk that resembles the look of a miniature Live Oak. In early spring Lacey Oaks produce peach and red colored leaves that mature into a striking blue green color, which is why this tree is also referred to as Blue Oak. A Lacey Oak leaf is about 4 inches long with smooth and lobed edges that have a stiff 
and leathery texture. In the fall Lacey Oaks can produce yellow to golden leaf. The leaves are rarely bothered by insects and disease and the Lacey Oak is highly tolerant of drought, heat, and high pH white limestone soils which is why is it is a great small tree for Parker County. This oak can be difficult to locate in retail nurseries. Local nurseries can get Lacey Oaks, but it might be a wait. Designated as a Texas Superstar Tree by Texas A&M University.